Filmography from : Jack Chefe
Actor :
Frankenstein Meets the Wolf Man
,
Roy William Neill
, 1943
Larry Talbot finds himself in an asylum, recovering from an operation performed by the kindly Dr. Mannering. Inspector Owen finds him there, too, wanting to question him about a recent spate of murders. Talbot escapes and finds Maleva, the old gypsy woman who knows his secret: when the moon is full, he changes to a werewolf. She travels with him to locate the one man who can help him to die - Dr. Frankenstein. The brilliant doctor proves to be...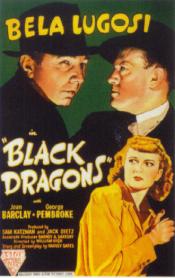 Black Dragons
,
William Nigh
, 1942
Prior to the beginning of World War II, the Nazis, at the request of Japan's Black Dragon Society, sends Doctor Melcher to Japan to transform six Japanese into identical likenesses of six prominent Americans. The Americans are done away with and Melcher, on the orders of High Dragon Yakhamea, is imprisoned so his secret will die with him. In his cell, Melcher switches places with the soon-to-be-released Colomb and, when he is freed, follows the...