SNOW WHITE AND THE HUNTSMAN
MEDIA
- 4 new videos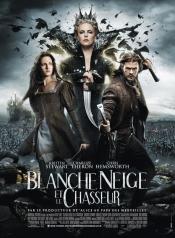 Here's 4 new featurettes for the upcoming
"SNOW WHITE AND THE HUNTSMAN"
, hitting theaters on June 1st.
Directed by
Rupert Sanders
, the fantasy take on the classic fairytale stars
Charlize Theron
,
Kristen Stewart
,
Chris Hemsworth
,
Sam Claflin
,
Ray Winstone
,
Ian McShane
,
Eddie Izzard
,
Bob Hoskins
,
Toby Jones
,
Eddie Marsan
,
Stephen Graham
,
Ray Winstone
,
Lily Cole
,
Sam Spruell
,
Liberty Ross
and
Noah Huntley
.
Featurette - The huntsman fights Finn (VOST)
Featurette - Into the sewer (VOST)
Featurette - Inside the action (VOST)
Featurette - Florence and the Machine (VOST)
Synopsis : Snow White is the only person in the land fairer than the evil queen. Unable to tolerate the insult to her vanity, the evil queen decides that Snow White must die. The queen sends a huntsman to kill Snow White. However the huntsman finds himself unable to murder the innocent young woman, and instead ends up training her to become a warrior capable of threatening the queen's reign.
French Release : 2012-06-13 - US Release : 2012-06-01
Source : Universal
No comments.