TOWN CREEK
REVIEWS
(Joel Schumacher)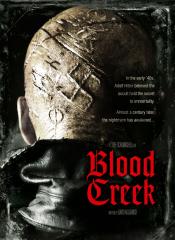 Click here to read our french
"BLOOD CREEK" movie review
, directed by
Joel Schumacher
with
Henry Cavill
,
Dominic Purcell
,
Emma Booth
,
Michael Fassbender
starring.
Synopsis : In 1936, the Wollners - a German family living in rural Town Creek, Maryland - are contacted by the Third Reich to host a visiting scholar, Professor Richard Wirth. In need of money, they accept Wirth into their home. Wirth's grand occult project seals the Wollners off from the rest of the world and makes them players in a horrifying game of survival. After 71 years, in 2007, Evan Marshall's life has stalled at twenty-five years old. Left without answers after his older brother Victor's disappearance from a camping trip near Town Creek, he has tried to move on. But when Victor returns one night, very much alive and having escaped his captors, Evan asks no questions - at his brother's request, he loads their rifles, packs up their boat and follows him back to Town Creek on a mission of revenge that will test them in every possible way...
French Release : 2012-01-26 - US Release : 2010-01-19
Source : Oh My Gore !
No comments.