L'ORRIBILE SEGRETO DEL DR. HICHCOCK
REVIEWS
(Riccardo Freda)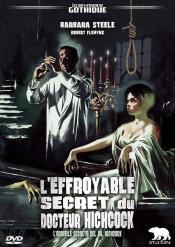 Click here to read our french
"THE HORRIBLE DR. HICHCOCK" movie review
, directed by
Riccardo Freda
with
Barbara Steele
,
Robert Flemyng
,
Silvano Tranquilli
starring.
Synopsis : The year is 1885, and necrophiliac Dr. Hitchcock likes to drug his wife for sexual funeral games. One day he accidentally administers an overdose and kills her. Several years later he remarries, with the intention of using the blood of his new bride to bring his first wife's rotting corpse back to life.
French Release : 1964-12-09 - US Release : 1964-12-02
Source : Oh My Gore !
No comments.