Filmography from : Sidney Salkow
Director :
The Addams Family
,
Sidney Lanfield
(48 episodes, 1964-1966),
Jerry Hopper
(4 episodes, 1964),
Sidney Salkow
(4 episodes, 1965-1966),
Jean Yarbrough
(3 episodes, 1964),
Arthur Hiller
(1 episode, 1964),
Arthur Lubin
(1 episode, 1965),
Sidney Miller
(1 episode, 1965),
Nat Perrin
(1 episode, 1965),
Stanley Z Cherry
(1 episode, 1966), 1966
The Addams Family is not your typical family: they take delight in most of the things that "normal" people would be terrified of. Gomez Adams is an extremely wealthy man, and is able to indulge his wife Morticia's every desire: be it cultivation of poisonous plants, or a candlelit dinner in a graveyard. People visiting the Addams Family just don't seem to appreciate the 7 foot tall butler "Lurch" or the helping hand (which is just a disembodied...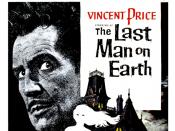 The Last Man on Earth
,
Ubaldo Ragona
(as Ubaldo B Ragona) (Italian prints),
Sidney Salkow
(US prints), 1964
...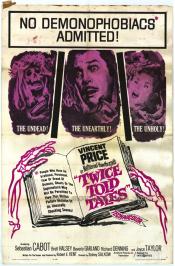 Twice-Told Tales
,
Sidney Salkow
, 1963
3 horror stories based on the writings of Nathaniel Hawthorne. In the 1st story titled "Dr. Heidegger's Experiment", Heidegger attempts to restore the youth of three elderly friends. In "Rappaccini's Daughter", Vincent Price plays a demented father innoculating his daughter with poison so she may never leave her garden of poisonous plants. In the final story "The House of the Seven Gables", The Pyncheon family suffers from a hundred year old...