SURVIVAL OF THE DEAD
"...OF THE DEAD" - Early Sales Art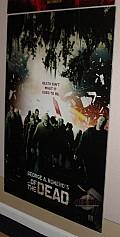 Here's the teaser art for
George A. Romero
's now filming
"...OF THE DEAD"
, which stars
Alan Van Sprang
,
Kenneth Welsh
,
Kathleen Munroe
,
Devon Bostick
,
Richard Fitzpatrick
,
Stefano Colacitti
and
Athena Karkanis
.
The plot involves inhabitants of an isolated island off the North American coast who find their relatives rising from the dead to eat their kin. The leaders of the island feud over whether or not to kill their reanimated relatives or preserve them in hopes of finding a cure.
Synopsis : The dead have risen for less than a week and the world is already like hell. The army has sunk into chaos and some soldiers prefer to desert. They succeed in reaching a small island off North America's coast, a remote place where they hope to live in peace. But what they thought could be an oasis is only a microcosm of the world at war they just left…
Click on thumbnail to enlarge :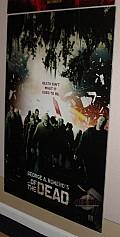 Source : Bloody-disgusting.com
No comments.