THE BOOK OF ELI
New Poster for "THE BOOK OF ELI"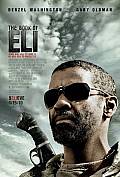 MySpace has debuted this new poster for the Hughes brothers'
"THE BOOK OF ELI"
, opening in theaters on January 15.
The film revolves around a lone warrior (
Denzel Washington
) who must fight to bring society the knowledge that could be the key to its redemption.
Gary Oldman
plays the despot of a small makeshift town who's determined to take possession of the book Eli's guarding.
Mila Kunis
,
Ray Stevenson
,
Jennifer Beals
and
Evan Jones
co-star.
Synopsis : A post-apocalyptic tale, in which a lone man fights his way across America in order to protect a sacred book that holds the secrets to saving humankind.
Click on thumbnail to enlarge :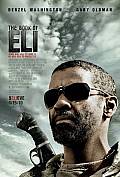 Source : Comingsoon.net / cinema-france.com
No comments.