ROBOCOP
CASTING
Clive Owen Replaces Laurie ?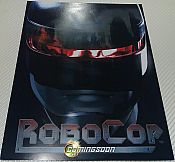 He was never officially confirmed, but now sources tell Variety's that
"HOUSE"
actor
Hugh Laurie
is no longer in talks to play the villain in
Jose Padilha
's
"ROBOCOP"
remake at MGM.
Laurie was to play the evil and ultra-rich CEO of Omnicorp, the company that makes Robocop. Already one potential replacement candidate has emerged -
Clive Owen
.
Deadline reports that MGM is looking at a "small group of actors" to play the character, with Owen being the only one mentioned.
The current cast of the film includes
Joel Kinnaman
,
Gary Oldman
,
Samuel L. Jackson
,
Jackie Earle Haley
,
Abbie Cornish
and
Jay Baruchel
.
Synopsis : In RoboCop, the year is 2028 and multinational conglomerate OmniCorp is at the centre of robot technology. Their drones are winning American wars around the globe and now they want to bring this technology to the home front.
Alex Murphy is a loving husband, father and good cop doing his best to stem the tide of crime and corruption in Detroit. After he is critically injured in the line of duty, OmniCorp utilises their remarkable science of robotics to save Alex's life.
He returns to the streets of his beloved city with amazing new abilities, but with issues a regular man has never had to face before.
French Release : 2014-02-05 - US Release : 2014-02-12
Source : dark-horizons.com / actucine.com
No comments.