EVIL DEAD
MEDIA
Teaser trailer available !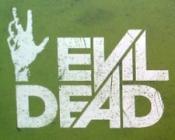 Hurry-up !
Here's the trailer from
Fede Alvarez
's remake of
Sam Raimi
's
"EVIL DEAD"
leaked at San Diego Comic-con !
Jessica Lucas
,
Jane Levy
,
Shiloh Fernandez
,
Lou Taylor Pucci
and
Elizabeth Blackmore
stars as five friends holed up at a remote cabin who happen upon the Book of the Dead, unleashing a demonic force that possesses each until only one is left to fight for survival.
Alvarez wrote the script with
Rodo Sayagues
with
Diablo Cody
providing revisions. Original producing partners
Rob Tapert
, Campbell and
Sam Raimi
will produce while Ghost House Pictures partners
Joe Drake
and
Nathan Kahane
will executive produce.