MEDIA
"SCREAM 4" french poster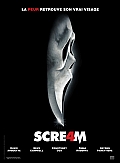 The French poster for
"SCREAM 4"
has come online and can be viewed below.
Opening in theaters on April 15, the
Wes Craven
-directed sequel stars
Neve Campbell
,
David Arquette
,
Courteney Cox Arquette
,
Emma Roberts
,
Hayden Panettiere
,
Marielle Jaffe
,
Rory Culkin
,
Nico Tortorella
,
Erik Knudsen
,
Marley Shelton
,
Anthony Anderson
,
Adam Brody
,
Alison Brie
,
Mary McDonnell
,
Anna Paquin
,
Kristen Bell
and
Brittany Roberts
.
In the film, Sidney Prescott (Campbell), now the author of a self-help book, returns home to Woodsboro on the last stop of her book tour. There she reconnects with Sheriff Dewey (Arquette) and Gale (Cox), who are now married, as well as her cousin Jill (Roberts) and her Aunt Kate (Mary McDonnell). Unfortunately, Sidney's appearance also brings about the return of Ghostface, putting Sidney, Gale, and Dewey, along with Jill, her friends, and the whole town of Woodsboro in danger.
Synopsis : 'The Ghostface Killer' returns in this fourth installment to the popular horror series 'Scream'. Set 10 years after the events of Scream 3, a group of people find themselves being stalked and murdered by Ghostface himself.
French Released : 2011-04-13 -
Source : Oh My Gore !
No comments.