LEPRECHAUN: ORIGINS
CASTING
- The WWE's reboot with Hornswoggle !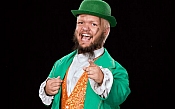 WWE and Lionsgate will produce
"LEPRECHAUN: ORIGINS"
, a remake of
"LEPRECHAUN"
. They already set the WWE wrestler Hornswaggle (
Dylan Postl
) to play the creature when the project was unveiled as the first in a two-film deal.
Harris Wilkinson
was hired to write the script of the film, which is a reboot about the character played by
Warwick Davis
in 1993.
US Release : 2013-12-02
Source : Deadline
No comments.