Filmography from : Dwight Frye
Actor :
Frankenstein Meets the Wolf Man
,
Roy William Neill
, 1943
Larry Talbot finds himself in an asylum, recovering from an operation performed by the kindly Dr. Mannering. Inspector Owen finds him there, too, wanting to question him about a recent spate of murders. Talbot escapes and finds Maleva, the old gypsy woman who knows his secret: when the moon is full, he changes to a werewolf. She travels with him to locate the one man who can help him to die - Dr. Frankenstein. The brilliant doctor proves to be...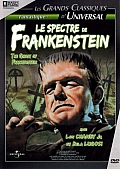 The Ghost of Frankenstein
,
Erle C Kenton
, 1942
The undead Monster and the wily Ygor have survived another mob of angry villagers. Needing help to restore the Monster's strength, Ygor brings his hulking friend to Ludwig Frankenstein, the original doctor's son. Ludwig has built a life and a reputation for himself in another town, far from the stigma and shame that his father and brother brought on the family. Ygor blackmails him. The good Ludwig realizes that the Monster is evil and must be...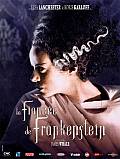 The Bride of Frankenstein
,
James Whale
, 1935
Mary Shelley, author of "Frankenstein, or The Modern Prometheus," reveals to Percy Shelley and Lord Byron that Henry Frankenstein and his Monster did not die. Both lived, and went on to even stranger misadventures than before. As the new story begins, Henry wants nothing more than to settle into a peaceful life with his new bride. But his old professor, the sinister Dr. Pretorius, now disgraced, appears unexpectedly. Eventually, he and the...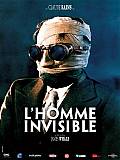 The Invisible Man
,
James Whale
, 1933
A mysterious man, whose head is completely covered in bandages, wants a room. The proprietors of the pub aren't used to making their house an inn during the winter months, but the man insists. They soon come to regret their decision. The man quickly runs out of money, and he has a violent temper besides. Worse still, he seems to be some kind of chemist and has filled his room with messy chemicals, test tubes, beakers and the like. When they try...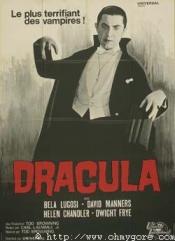 Dracula
,
Tod Browning
,
Karl Freund
(uncredited), 1931
After a harrowing ride through the Carpathian mountains in eastern Europe, Renfield enters castle Dracula to finalize the transferral of Carfax Abbey in London to Count Dracula, who is in actuality a vampire. Renfield is drugged by the eerily hypnotic count, and turned into one of his thralls, protecting him during his sea voyage to London. After sucking the blood and turning the young Lucy Weston into a vampire, Dracula turns his attention to...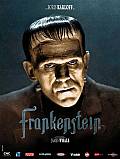 Frankenstein
,
James Whale
, 1931
Dr. Henry Frankenstein (Colin Clive) wants to build a man in his own image, using the body of a dead man. He and his assistent Fritz (Dwight Frye) dig up a freshly burried coffin and steal the body. When they realize the head and the brains of the body are severely damaged, they decide to steal a brain from Dr. Frankensteins former teacher Dr. Waldman (Edward van Sloan). When Fritz accidentely drops the glass jar with the label "good brain" on...
Drácula
,
George Melford
,
Enrique Tovar Ávalos
(uncredited), 1931
At midnight on Walpurgis Night, an English clerk, Renfield, arrives at Count Dracula's castle in the Carpathian Mountains. After signing papers to take over a ruined abbey near London, Dracula drives Renfield mad and commands obedience. Renfield escorts the boxed count on a death ship to London. From there, the Count is introduced into the society of his neighbor, Dr. Seward, who runs an asylum. Dracula makes short work of family friend, Lucia...
The Black Camel
,
Hamilton MacFadden
(uncredited), 1931
Movie star Sheila Fayne is seeing wealthy Alan Jaynes while filming in Honolulu, Hawaii, but won't marry him without consulting famed psychic Tanaverro first. Tanaverro confronts her about the unsolved murder of fellow film star Denny Mayo three years earlier, and she decides to reject Jaynes' proposal. When Sheila is found shot to death in her beach-front pavilion, Charlie Chan of the Honolulu Police investigates....